About the dance band that played for Princess Diana.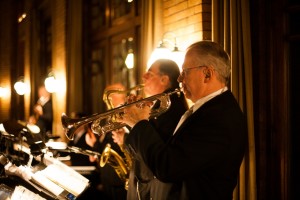 Stu Hirsh knows music…so you don't have to. The Stu Hirsh Orchestra specializes in creating the fun, exciting, sophisticated music that is needed for your event. Stu brings over 20 years of musical expertise with him, taking the guesswork out of planning your entertainment. Stu is dedicated to satisfying the musical desires of his diverse clientele. Let Stu sit down with you to discuss your musical needs. He always wants to know your musical likes and dislikes, so that the music will be a reflection of your tastes and style.
The orchestra has a huge repertoire of songs that includes traditional standards to the most contemporary dance hits. They have the flexibility to increase in size from 9 to 15 members, depending upon the specific requirements of an event. The Stu Hirsh Orchestra consists of some of Chicago's top musicians who play exclusively for Stu:
Four superb vocalists, who are adept at every style of music, perform with a dynamic stage presence. Together, they bring energy and elegance to all events played by the Stu Hirsh Orchestra.
An electrifying horn section that recreates every musical era to perfection.
And Stu Hirsh at the piano and keyboard, leads a rhythm section comprised of guitar, bass and drums that forms the musical foundation of the orchestra.