Read About the Man Who Started The Premier Chicago Wedding Band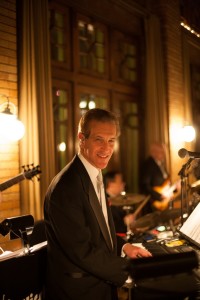 Based in Chicago, orchestra leader and pianist Stu Hirsh has been entertaining audiences at weddings, society parties, and corporate events for over 20 years. Selected to perform for Princess Diana, Stu Hirsh has played for such celebrities as former President Bush, Michael Jordan, Cindy Crawford, JFK, Jr., Kevin Costner, Elizabeth Taylor and Luciano Pavarotti to name a few.
Stu has had the privilege of sharing the stage with such musical stars as Tony Bennett, Aretha Franklin, the Four Tops, Michael Feinstein, Jim Belushi, Lou Rawls and Marvin Hamlisch.
From Palm Beach to La Jolla, Pittsburgh to Houston and back again to Chicago, Stu Hirsh is in constant demand for charity galas and private parties. The long list of benefits and balls includes the Chicago Symphony Orchestra, Houston Grand Opera, Kentucky Derby Ball at Churchill Downs, Cleveland Museum of Art, Goodman Theatre, Lyric Opera of Chicago, Missouri Historical Society, and the Old Globe Theatre in San Diego.
Stu was born and raised in Evanston, Illinois and earned a bachelors and masters degree in music from Northwestern University.